Sage Brush Natural Pets: The Best Collection of CBD Dog Treats on the Market
Sage Brush Natural Pets | |
Sage Brush Natural Pets: The Best Collection of CBD Dog Treats on the Market
As dog owners, we're constantly worried about our dog's health; and understandably so. While you may have heard of CBD being used by humans, have you heard of CBD pet products?
Pet CBD is taking off, and there is a good reason why. Since CBD is proven to improve physical health, your dog will be healthier than ever. Research suggests that CBD affects dogs the same way it affects humans. This product, obtained from the hemp plant, has countless health benefits.
With the growing number of CBD dog treats on the market, you might get overwhelmed by the number of options to choose from.
What if we told you there is a one-stop shop for all dog products, including CBD dog treats? That's right; Sage Brush Natural is a website where you can access a large collection of products for your pup!
Here is a collection of all the CBD Dog Treats you can purchase through on our website.
Top 5 CBD Treats for Dogs
CBD dog treats might be the supplement your dog has been waiting for to assist it in dealing better with chronic pain, anxiety, or a compromised immune system. Because CBD products offer so many potential health benefits, they are the ideal natural supplement for improving your dog's health.
Most experts believe CBD treats are completely safe for your pup! Sage Brush Natural only sells the best quality CBD dog treats available, so you don't have to worry about the quality or safety of the brands they sell!
Here is a convenient list of all the best CBD products you can purchase on their website:
#1 Purekana Pets Bacon Flavor CBD Oil
If you're looking for the best quality CBD oil for your pet, go no further than PureKana's CBD oils. These oils are manufactured in the United States and are also GMP certified (GMP). As a result, you may rest assured that they've met the industry's most stringent quality requirements.
You want nothing but the best for your pet. CBD oil products from PureKana are known for their superior quality and efficacy in the US market. Give your dog the gift of high-quality hemp-based CBD and watch them live a long, healthy, and balanced life.
The full-spectrum CBD oil allows you to give your dog the full benefits of CBD. Their CBD oil is mixed with hemp seed oil for its various health benefits. You can buy Purekana's CBD oils in 500mg or 300mg of CBD bottles.
Each bottle comes with a handy dropper that allows you to measure your doses accurately each time. You can give your dog one full dropper up to four times daily. If it's a fussy eater, don't worry! Just mix the drops in the dog's food since the CBD oil is natural and does not react with any food.
Pros
·        Pure CBD Oil with natural ingredients
·        Healthy CBD concentration for an effective dose
·        One of the best production methods in the industry
·        Perfect for anxiety relief
Cons
·        It only comes in bacon flavor
#2 Nuleaf Naturals CBD Pet Oil
NuLeaf Naturals CBD oil is derived from whole-plant hemp extract, which includes naturally occurring cannabinoids and terpenes in a full-spectrum synergy.
A third-party lab tests their products, so you know they are completely safe! They have complete control over the whole process, from seed planting to farming and manufacturing.
The company's CBD oil combines the benefits of CBC, CBN, and CBG to give your pup a powerful boost of supplements. These cannabinoids operate better together than they do separately and provide a similar experience to the entourage effect. Their cultivation technique assures that the NuLeaf CBD oil dose advised is safe.
Using your pet's weight, you can quickly determine how much CBD your pet needs from one of the three-bottle sizes. Each bottle comes with a helpful label to help you give your dog the right CBD dosage. Drop a few drops of the oil over your pet's tongue or into their meal and give it the health benefits of CBD.
Pros
·        It provides the complete full-spectrum experience
·        Natural ingredients to give your pup the full benefits of CBD
·        Dog CBD that is specially formulated to suit your pup
·        Improves joint health
·        Third-party testing to ensure safety
Cons
·        Limited variety of flavors
#3 KING KALM 600 mg of CBD with Copaiba & Krill Oil and DHA
Pet owners who wish to swiftly and consistently relieve their pet's suffering often turn to dog CBD oil as a product option. The combination of cannabidiol (CBD) oil and copaiba essential oil benefits dogs in a variety of ways.
The combination has the possibility to alleviate nervousness, helping anxious dogs calm down. Copaiba and CBD may be the right remedy if your dog has joint health problems. The naturally occurring CBD oil is perfect for treating joint pain since it can reduce inflammation.
Have you heard of Copaiba before? Researchers are finding more and more evidence that combining Copaiba and DHA can profoundly affect dogs while posing a low risk of side effects.
This product is created using extracts obtained only from American-grown industrial hemp as a raw material. This helps the company keep track of the cultivation process to ensure no harmful chemicals are being used.
This may be the most potent CBD oil in Sage Brush Natural's collection. KING KALM CBD with Copaiba oil comes in a strong 600 mg CBD dose, perfect for an effective treatment.
Each CBD oil comes with a syringe that you can use to inject the oil directly into their mouths. The oral syringe and 30ml container make it convenient to administer the product. Additionally, this essential oil comes with a dosing chart to help pet owners figure out how much to give their dogs.
Pros
·        One of the best CBD treats on the market
·        Natural ingredients that are great for an anxious pet
·        Improves dog's brain function
·        You can easily include it in your dog's CBD regimen
Cons
·        Relatively expensive compared to other brands
#4 Lazarus Naturals Full-Spectrum CBD Oil Tincture (Wild Salmon)
This salmon-flavored tincture delivers a relaxing CBD therapy to soothe and relax the selective pet's taste. Furthermore, it contains nutritious, natural fish oils that provide a wellness-boosting dosage of Omega-3 fatty acids.
Giving your dog the benefits of the hemp plant is a great way to help your dog's health. The benefits of the full spectrum CBD oil are hard to miss. Furthermore, since their products are tested, you don't have to worry about the safety of their product either!
If you're looking for an easy and tasty method to incorporate CBD into your pet's daily routine, this is the product for you. This product is a great choice if you want to relieve your pet's anxiety, minimize its suffering, and get it back to being a healthy and happy pet.
Simply put the right amount into your pet's food or water dish, or, if they're cooperative, directly into their mouths with the provided dropper attachment! The best way to help your pet out is to give them a nutritious snack they'll appreciate.
Pros
·        CBD treats combined with Omega-3 fatty acids
·        Helps an anxious pet with anxiety relief
·        Handy dropper that helps you measure the right dose
·        The best CBD dog treat to use a regularly
Cons
·        Some dogs may not enjoy the fishy flavor
#5 Pure Pets Hemp Dog Treats (Large Dog)-Various Flavors
For senior dogs, PureKana treats are made with the same care and attention as our conventional offerings. Dogs are equally as vital to the well-being of your family, so don't forget about them!
Their Pumpkin & peanut butter flavor is great for senior dogs who may suffer from anxiety. Whether you're on a plane, on a road trip, or in a situation with a loud noise, your senior dog may suffer from anxiety. CBD dog treats are a great way to help counter this problem.
All of Pure Kana's CBD dog treats are formulated in the USA and free of artificial colors or preservatives. They're made with delicious tasting natural flavors without THC; thus, there will be no psychoactive impact while using this product.
They exclusively utilize all-natural substances, such as organic superfoods and the finest CBD. Their CBD treats have no GMOs or dairy and are free of chemicals or preservatives. Do you know they are gluten-free too?
Pure Kanas CBD treats for dogs are available in three flavors. The flavors are Peanut butter, Blueberry & Chicken, and Steak and Sweet Potato. If your dog is a picky eater, you can try feeding it one of the three flavors.
The CBD treats for dogs also come in different potencies. One bag of CBD treats for large dogs contains 20 treats, each with 2.5 mg of CBD. Each pack contains 25 treats for smaller dogs, each containing 1 mg of CBD. You can include the treats as a part of your dog's diet.
Pros
·        Options for both small and large dogs
·        Best CBD dog treats that come in three delicious flavors
·        Natural ingredients that are non-GMO, dairy, and gluten-free
Cons
·        Some pups may not enjoy the flavors they offer
The Best CBD Dog Treats in their Collection
Sage Brush Naturals have a large collection of CBD treats. Here is a list of all the other products you can buy from the website:
Lazarus Naturals Salmon Treats Calm Mobility (CBD Full-Spectrum)
Lazarus Naturals crafts their Calming Full Spectrum CBD treats with the same care that they do their human-grade oils. In reality, these Lazarus Naturals CBD dog treats are the same as the rest of the company's CBD products. However, its potency has been tailored to meet the special demands of our four-legged friends.
These Calming Full Spectrum CBD treats are made using a complete hemp extraction. To put it another way, this implies that your pets will get all of the naturally occurring cannabinoids, terpenes, vital fatty, and acids amino acids in the hemp plant. Furthermore, Lazarus Naturals obtains all of its CBD from natural hemp plants produced on their own Lazarus Farms.
All of Lazarus Natural's products are non-GMO and safe for your pet to consume. Since Lazarus Naturals obtains its CBD from hemp plants on their own farms, they can ensure no harmful chemicals and fertilizers are used during cultivation.
This product is great if you want to improve your dog's joint health. As our furry friends age, they encounter numerous mobility issues. With the help of this organic full-spectrum hemp oil, you can help your pup manage this issue.
Lazarus Naturals Mushroom Treats Calm Vitality (CBD Full Spectrum)
Calm and Vitality from Lazarus Naturals CBD Dog Treats are an excellent method to keep your dog healthy and content. These CBD dog treats contain Full Spectrum CBD paired with Turmeric, Reishi, and Lions Mane Mushrooms, all of which provide health benefits.
The combination of Full Spectrum and Medicinal mushrooms promotes your dog's well-being by reducing stress and elevating energy levels. CBD Dog Treats contain full-spectrum hemp extract as well as beneficial ingredients that are bound to promote your dog's health!
As a result, they are designed to support the joints, reduce inflammation, and provide a feeling of well-being. This is the ideal supplement for those days when a simple walk around the block isn't enough.
Lazarus Naturals Pumpkin Treats Calm Digestion (CBD Full Spectrum)
If your dog suffers from digestion problems, Lazarus Naturals has you covered with their Pumpkin dog treats. These soft chews have been redesigned to help your dog's digestion, keep their gut flora healthy, and give comfort when they eat something they don't like.
To help your pet's digestion, Calm + Digestion dog treats contain Full Spectrum CBD, organic pumpkin, natural probiotics, DHA and EPA Omega-3 fatty acids, and curcuminoids. These organic ingredients completely relieve your pup and significantly improve your dog's diet.
The best part of the CBD dog treats is that they can be given at any time! They're supplements that improve your pet's health. Pet parents who are worried about their dog's digestive system should definitely try this product!
Lazarus Naturals Peanut Butter Calming Support (CBD Full Spectrum)
These soft chews have been redesigned to create a deeper sensation of peace and to alleviate environmental stress. The premium soft chews are specially formulated with the inclusion of vital amino acids L-Tryptophan and L-Theanine, which can further alleviate your dog's anxiety.
Lazarus Naturals CBD dog treats are renowned for being irresistible for most pups. Like all of their other products, these dog treats come in peanut butter flavor and are easy to feed to your dog. Each of the calming soft chews contains about 10 mg of CBD and can be given every six hours.
Dog CBD treats are ideal supplements to help your dog with anxiety relief. Whether it's loud noises, fireworks, or if your dog's an anxious pet, these calming soft chews are great for alleviating symptoms of anxiety. Just give your pup the recommended CBD dosage according to its weight and watch its health improve drastically!
Premium Jane's Pets Bacon CBD Drops for Dogs (250mg of CBD)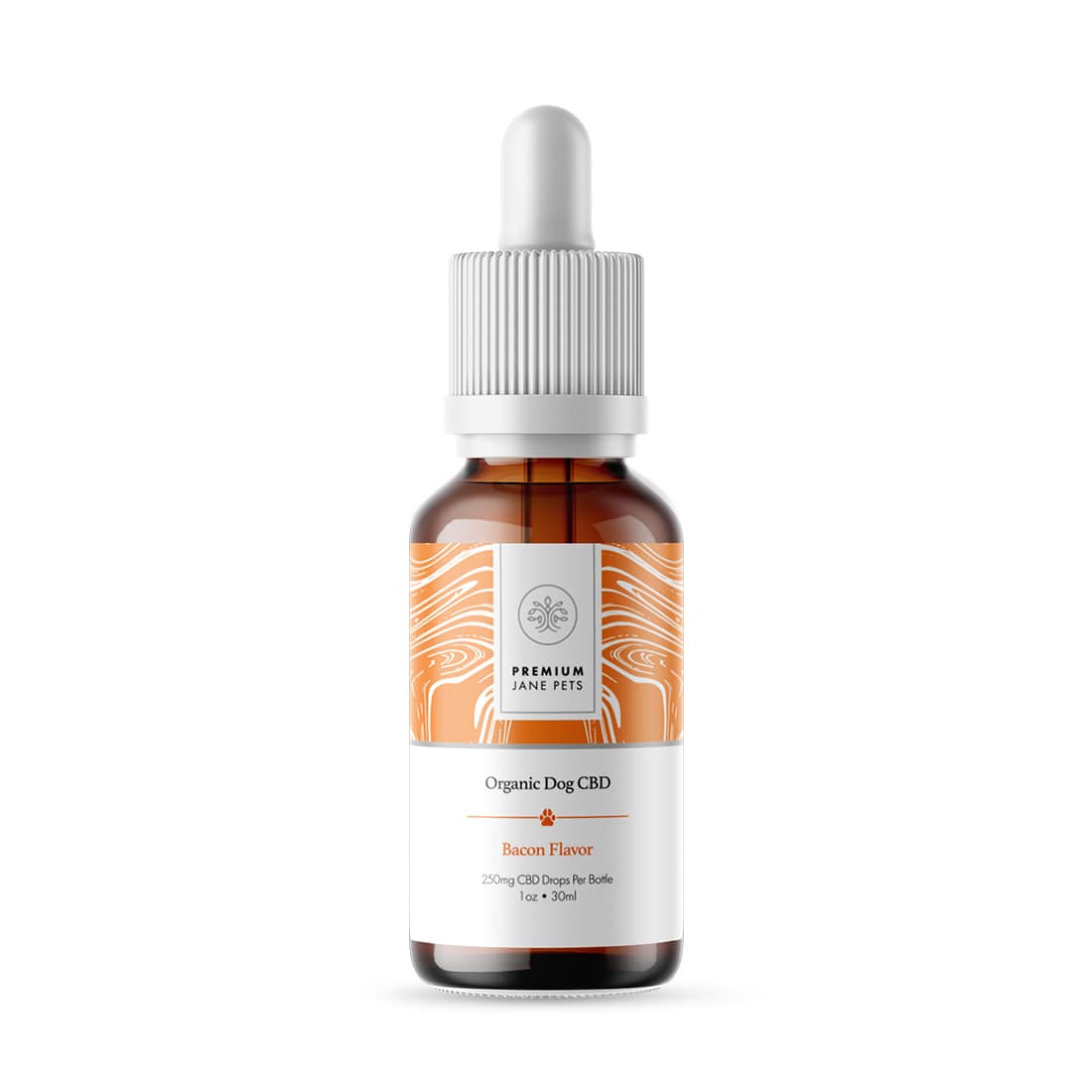 A growing number of dog owners have opted to test 250mg CBD drops. Canines, like humans, have an endocannabinoid system (ECS); thus, CBD might aid them as well. This is one of the reasons we recommend you try Premium Jane's line of CBD drops.
These dog CBD drops were created with your canine companion in mind. The hemp used to produce this full-spectrum product is of the highest grade. It also has a delicious bacon taste we hope your pet would like. Hemp seed oil and a natural taste combination are included in these CBD dog drops (from natural terpenes).
CBD drops for dogs come in a 30ml container with 250mg of CBD. This works out to 8.33mg of CBD per mL. Pets are expected to require far less cannabidiol than humans. As a result, you will need to ensure you give your dog the correct dosage of CBD.
Since each drop contains roughly 0.4mg of CBD, you know that five drops of CBD, for example, equals 2mg. This information allows you to determine the appropriate dose according to your dog's weight.
Premium Jane 100mg of CBD Hemp Treats
This organic dog treat is the newest addition to Sage Brush Natural's premium pet product collection. The 100mg strength hemp treats include 5mg hemp each chew at 1 treat per serving, making them the greatest senior dog CBD dog treats available. If your dog weighs more than 50 pounds, these are the goodies for you and your pet.
Premium Jane believes your pet deserves the best, which is why they provide 100 percent organic treats with only the finest ingredients. CBD dog treats are like their human goods and are made from high-quality, USA-grown hemp. Furthermore, Premium Jane ensures that each treat is THC-free and soy-free.
Despite the large variety of CBD dog treats available on the market, your dog will not be able to resist Premium Jane's dog treats. Their Sirloin & Sweet Potato flavor and Apple & Cinnamon Oats selections are delicious enough to have your pet drooling for more. Your pet may even put on its best behavior in an attempt to get more. The best part is that their CBD dog treats are always made from natural terpenes.
Don't be afraid to give your dog the greatest hemp treats available by purchasing with Premium Jane. The firm only uses the finest quality organic ingredients, superior extraction procedures, and third-party lab testing to ensure quality in every batch.
Some dog owners believe CBD has improved their pup's physical and emotional health. Results may vary amongst dogs, but using a high-quality product helps you achieve the greatest results.
Premium Jane 100 mg hemp dog treats have been meticulously crafted to include only the best ingredients. They have used years of hemp knowledge to create treats that dogs will like and benefit from.
Cordoba Farms- It's Dope
Is your dog's skin itchy, or do you see patches of dead skin? An unhealthy coat on your four-legged friend is a serious issue, and you should treat it with the right product! Dogs with itchy, inflamed skin may relieve their worry and stress thanks to the calming effects of CBD, a compound in hemp.
This is extremely important since discomfort and itching can generate tension in your pet, and worry frequently causes dogs to itch even when they are not uncomfortable. Cordoba farms have a unique solution to this problem!
The It's Dope spray is a simple yet effective solution to your dog's unhealthy coat. CBD oil spray can heal the skin naturally when applied to the skin. It's fantastic for irritated, itchy skin, eczema, hot areas, small cuts, bruises, and sunburn! It will assist in halting the bleeding and lessen pain and irritation.
The product combines organic cold-pressed hemp seed oil with neem and aloe oil to soothe and heal your dog's fur. You won't have to worry about your dog's body anymore since the spray will nourish its skin effectively.
Dogs that don't now suffer from excessive itching or skin irritation might still benefit from the use of this medication. Since it can prevent skin disorders from developing, applying it regularly will help your dog stay protected when it is outdoors.
King Kalm CBD 300 mg of CBD
For dogs, KING KALMTM uses only the highest-quality natural CBD oil in its formulation, which is then suspended in the super-healthy krill oil. King Kalm's natural CBD oil is one best CBD dog oils because of its quality. Additionally, it is combined with highly beneficial krill oil to improve your dog's health!
Antioxidants and Omega-3 fats in krill oil have been shown to function in tandem with CBD's medicinal qualities to support a healthy immune system. Pet owners have utilized King Kalm's products all around the world to help alleviate their pets' symptoms of anxiety, physical and noise discomfort
Pet parents who wish to relieve their pet's suffering fast and consistently often turn to 300mg CBD oil as a popular option. CBD oil and krill oil is highly effective in treating certain conditions. It is also the perfect supplement to add to your dog's daily diet.
The 30ml bottle of CBD oil for pets comes with a syringe for convenient dosing into your pet's mouth. This CBD and krill oil also comes with a dosing chart to help pet owners figure out how much to give their animals.
King Kalm Crunch CBD Pet Treats
The King Kalm range of CBD dog treats, such as soft chews for dogs, provides pet parents with an all-natural method to pamper their pets. Natural cannabidiol and other organic ingredients like honey, apples, and turmeric go into the making of these delectable CBD soft chews.
Each CBD crunchy treat is dried after being carefully cooked at a low temperature to keep its nutritional content while being gluten-free and rich in vitamins and Omega-3s. King Kalm CBD crunchy treats come in three delicious, all-natural flavors for dogs to choose from.
King Kalm CBD dog treats are professionally prepared with your pet's health and happiness in mind. They source their CBD from the finest sources while ensuring their products are free from THC.
With each mouthful, your pet will receive a concentrated dosage of nutrients and healthy fats from the organic components from their chews. All of King Kalm's CBD treats for dogs are third-party tested to verify that they are safe for your pet's health and well-being.
How Can You Pick The Right CBD Dog Treats?
With the abundance of options on the market, picking the best CBD dog treats is daunting. It required thorough research of the CBD dog products and a closer look at their ingredients.
Before you purchase a product, you need to understand some factors. These factors are vital in dog treats because you do not want your dog to face any adverse effects. CBD dog treats provide a large array of health benefits; however, only if you choose the right product.
You should consider a few factors before choosing the right CBD dog treats for your pup:
Hemp Source
Cannabis plants are extremely delicate and highly sensitive to their growing environment. Choosing a producer that receives hemp from the most trustworthy farms is vital because of the plant's tendency to absorb potentially dangerous chemicals that are used in its manufacturing.
Locally grown hemp does not include any potentially dangerous pesticides or fertilizers. Local laws prohibit the use of dangerous substances in the cultivation of the plant. Because of their high quality, they might be more natural and effective.
Independent Lab Testing
In order to even consider purchasing CBD products, it is necessary to undergo laboratory testing. Testing allows producers to confirm their products' components, purity, efficacy, and safety. Despite the fact that third-party testing is required, some businesses choose to disregard this requirement.
A good brand will always allow its customers to see the laboratory's certificate of analysis. It helps customers build trust in the brand they have chosen due to its transparency. If this critical information is easily available, it is a clear sign of a good business.
Remember that the purity of any supplement you use is a crucial factor to consider. Avoid using low-quality things that contain pollutants to protect yourself from possibly dangerous substances.
Purpose
For dogs with chronic pain, anxiety, or a weakened immune system, CBD dog treats may be the supplement they've been looking for to help them cope better. Because CBD products offer so many potential health benefits, they are the ideal natural supplement for improving your dog's health.
The ingestion of cannabidiols does not produce drowsiness since they do not contain any psychoactive components. CBD products may help your dog get a calm and relaxed mood after a long day!
You should not use CBD dog treats in place of prescription medications. Always seek the counsel of your veterinarian and follow the directions on the back of each container to ensure that CBD treats are fully risk-free to consume.
So, Are CBD Treats For Dogs Safe?
Most experts believe CBD treats are completely safe for your pup! According to WHO research, there is no misuse or dependence potential in animals using CBD. Furthermore, CBD may be an effective therapy for a variety of medical disorders ranging from anxiety to nausea.
However, that doesn't mean you can buy all CBD products for your dog. Unfortunately, a large chunk of the CBD industry isn't well-regulated. There is a possibility you may end up with a product that contains harmful additives that may have bad health effects on your dog!
To ensure your dog treats are safe to consume, ensure you examine the product's certificate of analysis(COA). While CBD is safe to consume, THC may be toxic to your pup. According to the law, dog treats should not contain over 0.3% THC. So, ensure your products comply with this limit.
---